Beyond acting, clothing, make up and hairstyle are a large part of character interpretation. Carrie Fisher, Audrey Hepburn and a lot of other actresses and actors launched popular styles by playing iconic characters. If these styles were surprising at the beginning, most of them became fashion along the years. Whatever they are, these hairstyles were copied, changed, and revisited by people of all over the world for decades. If people know these characters, it's partly because of the iconic work of their hairstylists. Their haircuts gave them credibility and made the roles unforgettable, because years later, we can't forget them…
Permanent Curls – Grease (1978)
Christine George and Charlene Murray (hairstylist and hairdresser) designed this style composed of height and volume that made Sandy Olsson (also known as Olivia Newton-John) remarkable. Who never dreamt to have the same blonde curls in the 80's? Today, curls are still in fashion – and seem to be perennially fashionable – but the watchword "The bigger, the better" is over. Things had changed during these 40 years: now, hair doesn't touch the sky and curls don't rise so much. Permanents look more natural than 80's ones, with wider and more curved curls.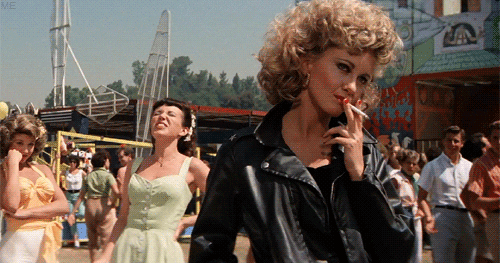 Flat bob (and the lock!) – There's Something About Mary (1998)
End of the 90's, beginning of the 21st century… The time of long hair is over! The bobbed hairstyle is back, and Cameron Diaz (who plays the role of Mary) contributed a lot to the bob cut becoming fashion again. We all remember her hair lock – that never became fashion, fortunately! Let's mention the key hair stylists who designed it: Voni Hinkle and Gunnar Swanson.
At the present time, the bob cut has a lot of variants: short, long, angled, or curly among others. More appreciated by middle-aged women a few years ago, now this hairstyle is worn by ladies of all ages and has become a trendy hairstyle, probably thanks to Lucy Hale and Emily Ratajkowski.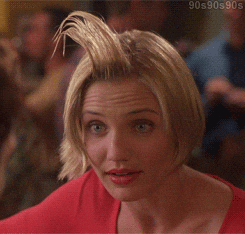 Bun – Breakfast at Tiffany's (1961)
Nellie Manley designed this hairstyle for Audrey Hepburn. In Breakfast at Tiffany's she wore her hair in a king-size but refined bun. She often added some jewels on her bun, the "chic detail" that made it a legend. We can say that she was one of the first (and not the last) to wear it on red carpets. 58 years later, the bun is always worn by a lot of women and it never goes out of fashion. This is clearly the most generalised hairstyle, thanks to its many variations: French twist, loose bun, low bun updo… Women can wear it on any situation, which makes the success of this hairstyle.
Double bun – Star Wars (1977)
The double (big) bun of Princess Leia was made by the hairstylist Pat McDermott. This hairstyle had been inspirited by the one of "Hopi" women, a Native American tribe, recognised for populating North America – and especially the Arizona state – from the 18th century, and who became known during the 20th century thanks to photography. These Hopi women are very involved in tribe social life, they have more power in society than men, and were enlisting men during the Mexican Civil War: the director George Lucas found these personality traits interesting for the character of Leia.  Carrie Fisher – who played Leia – confessed that the hairstyle took two hours every morning (and said she used to sleep in it at the same time, and woke up pretty!). But she also added that she didn't really like this hairstyle. If some women do wear a double bun, we haven't seen it that big for a while!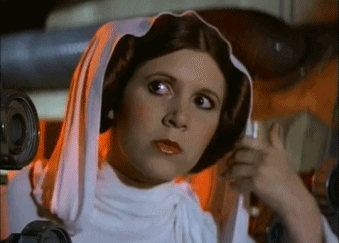 Red hair – The Fifth Element (1997)
At the time of its release, The Fifth Element was the most expensive European film ever made, with a budget of $90,000,000. Luckily, Luc Besson's movie found a real success. The main actress, Milla Jovovich, playing the role of Leeloo, wears an acid orange blunt-cut bob. Even if there are a lot of other uncommon hairstyles in the movie, Leeloo's is the most impressive one. Richard Ward took care of Milla Jovovich's hair during the shooting. But a set secret is that Milla's hair became damaged by the colouring process, and she had to wear a wig in some scenes to protect it. We couldn't say that this hairstyle inspired a lot of people (expect maybe punks), but for sure it made the character – and the movie – unforgettable.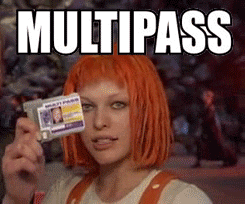 Pigtails – The Addams Family (1991)
The Addams Family – directed by Barry Sonnenfeld – is the film adaptation of the 1964 same-titled series, based on Addam's cartoon characters. So, as you can guess, the Addams family has persisted for years ! The little "Wednesday" performed by Christina Ricci, Addams' daughter, has strange – and dark – hobbies. Apart from her black clothes contrasting her pale face, her hairstyle is the key detail of the character. Wearing dark middle parted pigtails, her look has become unforgettable. Designed by Christopher Shihar, it inevitably reminds us of the schoolchild cliché, as a lot of pupils wear pigtails on their uniform.